WITH DOWNCAST GAYS (1974)

A preface by Andrew Hodges FOR THIS WEBPAGE EDITION
---
Self-oppression and self-publication
Between April 1973 and April 1974, when I was a student in London, I worked with the artist David Hutter on writing a pamphlet on the concept of self-oppression which had earlier been promulgated in the Gay Liberation Front Manifesto (1971). We collaborated very closely in the writing, and then we published it ourselves, under the name of Pomegranate Press. We launched it at Great Malvern, Worcestershire, where the conference of the Campaign for Homosexual Equality took place in May 1974.
We sold 3000 copies at 20p, and then reprinted it in April 1975. But in 1977 we passed it on to Pink Triangle Press in Toronto. The pamphlet had received a particularly keen response in the Toronto gay journal Body Politic.

About 12000 copies were printed in all, roughly half circulating in Britain and half in North America. It was translated into French and German, and excerpts also appeared in Swedish and Italian magazines.
With Downcast Gays has been out of print since about 1981. It is listed by Amazon on this page, as an out-of-print text.
David and I talked about the possibility of it being republished with a new introduction in 1984, but nothing came of it.
In 1995 I returned to our original spirit of nonprofit self-publication, by putting the text on the World Wide Web. Of course, the references now read like ancient history — but some of the issues are alive today.
David's best-known pictures were published in the book Nudes and Flowers.

The experience of writing With Downcast Gays was an important element in deciding me in 1977 to find out about Alan Turing, the founder of computer science and chief codebreaker of the Second World War. He was an open and unashamed gay man who was driven to his death by persecution and punishment. It was in fact through David Hutter that I first learnt of his story, and in an extraordinary coincidence, it transpired that David's long-term partner, James Atkins, had been Alan Turing's first lover from 1933 to 1937.

I wrote a long biography of him as a contribution to gay history. My book Alan Turing: the Enigma appeared in 1983.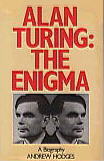 The Columbia Reader
About two-thirds of the text of With Downcast Gays is included in the Columbia Reader in Lesbian and Gay Studies, edited by Larry Gross and James D. Woods (Columbia University Press, 1999). This very large anthology of lesbian and gay writing includes those portions of our text thought by the editors to be relevant in 1999.
Copyright
The copyright was held by David Hutter and myself under the name of Pomegranate Press. On David's death in 1990, his artistic and literary estate passed to Geof Kitchen, who has kindly encouraged me to republish. These Web Pages are made available for people to make individual copies as they please, but the copyright is reserved.


---
Andrew Hodges